Studies have shown that proteins are the second most crucial component in our body after water. Protein is the building block that helps in the growth of our mind and body. However with changing food habits, the amount of protein that our body procures during a day is way less than what it should get. This is majorly because of the poor quality of food that we consume. Due to this reason, majority of the components that we feed our body is turned down and only the useful part is consumed in growth and development.
Protein – Nutritional Importance
Proteins provide our body with all the essential amino acids that help in building new tissues and also form major part of the internal tissue proteins. Since our body experiences some amount of wear and tear on a regular basis, it is important to provide it with the required amount of proteins and other nutrients. This is because of the reason that these proteins helps in constantly repairing as well as maintaining the tissues and muscles, hence providing human body with the required metabolism rate.
Moreover, it is also true that majority of the compounds, fluids, components and organs in our body constitute of a large amount of proteins. These large molecules of protein also protect our body from all kinds of outside invasions faced from infections and other harmful agents, thus protecting the body from a variety of illnesses.
Most importantly, proteins maintain a balance between acids and bases in the body. This is done by releasing unwanted hydrogen ions from the body and also accepting them whenever required. A least known fact about proteins is that it helps in retaining water in the body. Since proteins are large molecules, they attract water and hence the body is able to maintain its share of the life- saving liquid. Apart from this, proteins also help in providing the body with its share of glucose whenever required.
Importance of breakfast
People often say that everyone should eat like a king in the morning. If you are wondering why, then you must know that breakfast is the very first fuel that our body receives before starting a day. In order to keep all the functions going like they are supposed to, it is important to have a hearty breakfast. Moreover, people who skip breakfast are likely to eat more during the rest of the day and hence see their weight scales going the wrong way.
A healthy breakfast helps in keeping the body and mind fresh and rejuvenated throughout the entire day. Apart from this, breakfast is like a triggering source for our brain to develop as well as function properly. Especially during the growing years of an individual, having a healthy breakfast becomes even more necessary.
Including proteins in your breakfast
Eating proteins for breakfast is probably the best start that you can give yourself. Proteins are not just a great source of energy and strength; rather it also gives you a feeling of being full much faster as compared to other food products and hence saves you from eating unnecessarily during the rest of the day. Proteins are also known as the powerhouses of energy and growth. People who eat proteins at least once throughout the day are seen to have very few health issues and they also stay active due to their high-protein breakfast choices.
High protein breakfast recipes:
1. Scrambled eggs and chilli
Ingredients for making scrambled eggs and chilli high protein breakfast:
2-3 large eggs
Egg white
Cooking spray
5-6 cherry tomatoes
1 small jalapeno
Pinch of salt and pepper
Thinly sliced onion/ scallion
Method of preparing:
In a bowl, whisk the egg whites, eggs, salt and pepper until the mixture becomes frothy and completely blended.
On medium- low heat, keep a medium sized skillet and when the skillet becomes hot, spray a little of the cooking spray onto it.
Now cook the chopped tomatoes and chillies until they become soft, say for 2- 3 minutes.
Now add the eggs and cook it by gently mixing all the time. Once it is cooked as per your desire, add the chopped scallion and serve hot.
This recipe is one of the best high protein breakfast foods consumed all over the world.
2. Braised kale frittata
Ingredients for making braised kale frittata:
4 large egg whites
6 large eggs
Cooking spray
Chopped oregano
¾ cup of chopped cherry tomato
2 cups of braised kale, drained, finely chopped and without cheese
Salt
Pepper
Parmesan cheese
Method of preparation:
Preheat the oven to 375 degrees.
Take a medium sized bowl and mix the eggs, egg whites, pepper, salt, Parmesan cheese and chopped oregano.
Take a non- stick skillet and apply cooking spray onto it. When the pan becomes hot, add the tomatoes and kale and cook it by lightly stirring for 2-3 minutes.
Now add the eggs and distribute it evenly. Transfer the contents of the skillet into the oven.
Bake it until it is completely set and hot. Cut it into wedges and serve hot.
3. Smoked salmon frittata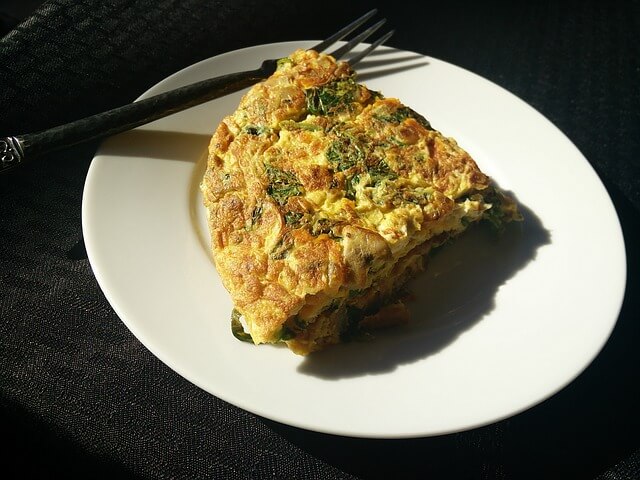 Ingredients for making smoked salmon frittatas:
1 tablespoon extra virgin olive oil
Salt
Pepper
1/3 cup of diced onion
6 large eggs
8 large egg whites
4 ounces of smoked salmon (cut into ¼ inch pieces)
3 tablespoon milk
2 tablespoon of scallion, thinly sliced for garnishing
3 ounces of low- fat cream cheese, cut into small cubes
Preparation:
Preheat the oven to 325 degrees and in a skillet, cook onions until it becomes soft.
Now add the smoked salmon, salt and pepper.
Remove the skillet from flame and put it aside to cool. In a bowl, mix the eggs, egg whites and milk.
Add cream cheese into this and stir well.
Coat cooking spray onto 6 ramekins and add a generous share of the salmon mixture on these ramekins.
Also pour ¾ cup of egg mixture onto the ramekins.
Place these ramekins on a baking tray and bake it for 25 minutes and garnish it with the thinly sliced scallions.
Serve hot.
4. Berry quinoa parfait

Ingredients:
¼ cup blueberries
1/8 tablespoon ground cinnamon
1.4 tablespoon pure vanilla extract
1/3 cup cooked quinoa
¾ cups plain low- fat yogurt
9 walnuts (chopped)
Method of preparation:
In a bowl, mix quinoa, cinnamon, vanilla and low- fat yogurt.
Take half of the quinoa mixture into a glass and then add the chopped walnuts and blueberries into it.
Repeat these layers until the glass is full and then top it up with a layer of walnuts.
It is one of the easiest high protein breakfast ideas.
5. Cinnamon French toast with yogurt

Ingredients:
1-2 eggs (well- beaten)
Slices of whole- grain bread
¼ tablespoon of cinnamon
¾ cup of plain low- fat Greek yogurt
Method of preparation:
Soak the bread slices in the beaten eggs.
Take a non- stick pan and apply a little of cooking spray on it.
Take these bread slices one at a time and cook them.
Each side for at least 1- 2 minutes until it turns light brown.
Sprinkle the cooked slices with cinnamon and serve it with low- fat Greek yogurt.
6. Protein cocoa pancakes

Ingredients:
3 tablespoon raw cocoa
1 teaspoon vanilla
1 tablespoon coconut oil
2 eggs
¼ cup protein powder
½ yellow or green plantains
Preparation:
Peel the plantain and put it into a food processor/chopper/blender.
Add the eggs, raw cocoa powder and protein powder into this.
Mix this all together and now add the vanilla and coconut oil.
Blend it once again.
Take a skillet and heat it on medium flame.
Scoop a small quantity of this batter and cook it on the skillet until the top has small bubbles and the bottom turns golden (say for 3-4 minutes).
Flip this and repeat the same for other side as well.
Serve hot with honey.
7. Oreo cookie protein shakes

Ingredients:
1 cup milk
½ cup fibre chocolate cereal
1 tablespoon raw cocoa powder
Ice
1 scoop vanilla protein powder
Preparation:
Blend all the ingredients together and that's it!! Enjoy this high protein breakfast recipe and stay healthy.
Proteins are a vital part of our diet. Proteins can be consumed anytime during the course of your day. Even though having a protein- rich breakfast is a great choice, but you can also increase your protein intake by replacing all those carbohydrate – rich biscuits and snacks with protein recipes. You can find both the high protein breakfast recipes as well as snack recipes on our website. So try any of the above low-carb high protein breakfast recipes and lead a healthier and happier life.