Cracked heels or "heel fissures" are the outcome of disregard for foot-care rather than just overexposure, or lack of proper moisturization. Cracked feet are a universal problem and are generally caused due to the drying up of skin (xerosis).
Heel fissures are linear cuts or wounds that affect the surface of the skin known as the "epidermis". If a fissure is left untreated it widens and penetrates further down towards the layer of skin below the epidermis. This can be the reason for excruciating pain and bleeding, leading to infection.
Cracks may appear in the other parts of your skin too, but they generally appear in the parts that are most frequently used. Weight gain and excessive pressure on the soles of the feet cause the feet to expand horizontally. The skin that borders the heels becomes dry and begins to crack.
Paucity of zinc and omega-3 fatty acid causes heel fissures to appear. Other reasons for the appearance of heel fissures include the thickening of skin around the border of the heels and gros? Neglect.
Heel fissures are avoidable, especially if you suffer from chronic conditions such as diabetes and immune deficiencies. Besides, all your feet demand of you, is a little bit of pampering in the comfort of your home with some simple home remedies for heal cracked heels foot scrubs. They are all you need to keep those ugly cracks from appearing on your dainty feet.
Elderly people, or people with excessively dry skin and those who are constantly on their feet, tend to have cracked heels. Other causes for cracked heels are that the skin stops producing sebum with age as a result of which, senior citizens are unwitting victims of dry and cracked skin around the heels known as "callouses".
Some other common age related problems are peeling skin, dry and very dry skin. However, if the cracking is severe and bleeding occurs, you should consult a doctor in order to prevent infection and a further deterioration in the condition.
Causes of Cracked Heels:
Factors such as your style of walking, pressure on your heels, etc. lead to the formation of callous. Callous is basically thick and dry skin around the heels that cracks easily.
Cracked Heels can also be the result of:
Obesity exerts pressure on the layer of fat lying under the heel and if the skin is not elastic, or sufficiently moisturized, it expands along the sides and begins to crack.
Standing for extended periods of time, especially on rough or hard surfaces.
Wearing shoes that do not cover the heels. The fat under the heel expands horizontally and the skin cracks if we do not wear proper foot wear.
Skin diseases such as psoriasis and eczema, or medical conditions such as diabetes, immune deficiencies and hypothyroidism are also responsible for heel fissures.
Natural Foot Scrub Recipes:
For feet that are tired, scaly, dry and embarrassing or painfully cracked, here are a few easy natural foot scrub recipes that are inexpensive, time saving and will save you an expensive trip to the salon!
#1. Olive oil and brown sugar scrub:
Use this DIY foot scrub if you are pressed for time and have no time to spare for a regular salon treatment. Just before you step into your shower, open your kitchen cabinet and mix together:
A tablespoon of brown sugar.
A pinch of baking soda.
Some olive oil.
Use the scrub on all the rough areas of your feet.
Rub it in well and scrub it off with an acrylic foot file for best results.
#2. Sugar and baby oil foot scrub:
This homemade foot scrub to heal cracked heels is the simplest possible way to keep your feet nourished and moisturized. All you need:
A medium size bowl of sugar.
½ a cup of baby oil.
Mix and scrub the rough areas of your heel with this.
This homemade foot scrub to heal cracked heels can be used, whenever your feet need a little bit of extra moisture.
#3. Strawberry foot scrub:
To give your feet a velvety, soft texture, make a strawberry foot scrub: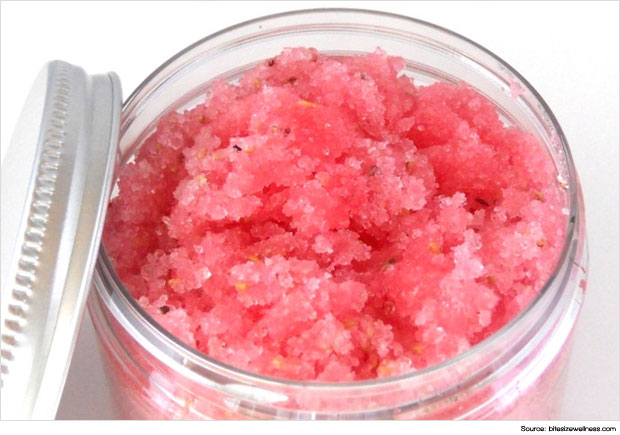 Take a bowl of freshly mashed strawberries.
Add a tablespoon of salt.
Two to three table spoons of almond oil.
Two vitamin E tablets.
Mix and massage your feet with the paste for at least 20 minutes around the rough areas.
Rinse with slightly warm water and pat your feet dry.
#4. Honey and Sugar Foot Scrub:
This homemade foot scrub to heal cracked heels softens your feet and is simple and easy to make.
Take two large tablespoons of brown sugar in a bowl.
Add the juice of half a lemon.
Add a tablespoon of honey.
One tablespoon of olive oil.
Slather generously over your wet feet and scrub well for about 10 minutes.
Wash off the scrub with warm water.
This DIY foot scrub gives your feet a well nourished look and leaves it free of dry skin and cracks.
#5. Rosewater and glycerin foot scrub:
Rose water and glycerin both have soothing properties and can ease the pain and irritation caused by cracked heels.
Before you go to bed, wash your feet clean and pat them dry with a soft towel.
Pamper your feet with a mixture of glycerin and rose water and cover your feet up with a pair of old cotton socks.
This mixture works literally like magic and the transformation has to be seen to be believed!

#6. Banana foot scrub:
Banana can be very hydrating and thus relieves the dry, itchiness caused by the cracks.
Mash a ripe banana completely and slather it over your badly cracked heels.
Leave it on for 10 minutes.
Scrub this off with a soft pumice stone and wash with warm water.
This easy to make foot scrub recipe heals cracked heels and peeling of skin excellently the natural way.
#7. Sugar and oil (almond or coconut):
Sugar is a great exfoliate and rids your feet of all the dry and dead skin. Making this homemade foot scrub to heal cracked heals is very easy. All you need is:?
Two spoons of sugar and some almond oil/coconut oil. This can help you to get rid of the dry and dead skin on your heels and leave them squeaky clean and soft.
Just rub it gently on the affected parts and wash off the dead skin with warm water.
Benefits of Using Homemade Foot Scrub to Heal Cracked Heels:
Easy to make:
Homemade foot scrubs and soaks are made with easily available ingredients that are generally found in every home and are things that you use in your kitchen every day.
No chemicals:
The ingredients that go into the DIY homemade foot scrubs to heal cracked heels are completely natural and herbal. They have no artificial chemicals in them and so will not cause your feet or skin any harm.
No side-effects:
Since the ingredients do not contain any chemicals or artificial ingredients, they do not have any side effects.
Heal and Nourish:
Natural herbs, essential oils, fruits and naturally available ingredients such as honey etc. are nutrient rich and have several nourishing and healing properties. They not only heal the feet but replenish them with the required nourishment.
Cracked heels or heel fissures are a common problem and can turn into painful infections or wounds if they are left untreated. Underlying causes such as excess weight, skin diseases, vitamin deficiencies, old age and diabetes also aggravate the problem.
The problem of heel fissures or cracked heels may be easily resolved with the help of some really easy to make homemade foot scrubs to heal cracked heels. The DIY foot scrubs are made up of completely natural ingredients that are easily available in our homes and can be used in order to have clean, healthy and disease-free feet.
However, if your feet are severely cracked and bleed, or there are signs of infection, you should consult a physician, since the underlying causes need to be rooted out first.