As the current state of lockdown in the UK begins to ease off, for many of us, it's been a time when we've looked forward to planning our new journeys, taking a well earned holiday, or simply just enjoying the ability to drive in our cars and visiting new places.
Sometimes it can get harder to use a vehicle as you get a little older and positioning yourself into relatively low seats and turning to get out of your vehicle can be a strain.
Driving a car should be a pleasure, and the good news is that there are a wide number of aids now available to make both driving, or simply getting I and out of your car both easier and safer.
Here, we're going to take a look at some of these aids and how they can help to make your daily life, that little bit easier and hopefully make the experience of driving, or indeed being a passenger, one that you'll take full enjoyment from.
It's true to say, that when it comes to our vehicles, which for many of us, are our pride and joy, (next to our homes), there is no shortage of accessories that we can spend money on to enhance the experience, or simply to add to the aesthetics.
Also Read: the best luxury cars for women
After all, when not in lockdown, most of us will use our cars at least once a day, sometimes not as often, but because we do spend a considerable amount of time in our vehicles, it make sense for so many of us to invest in the best for our driving pleasure.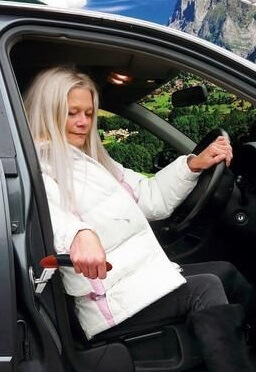 Manufacturers have not been slow to come forward with a huge plethora of said accessories and aids and you only have to visit your local car parts shop to see this in action.
But when it comes to aids that can make your life easier and safer, as well as being more comfortable, there are fewer aids that are readily available on the high street.
One example of such a car aid is the car support handle, this innovative and compact device has been readily adopted for use by thousands of people as it give that little bit of additional balance and support when entering or leaving the seating position in the car.
Very simple and quick to fit, when in place the car support handle is an extremely simple yet strong and reliable mobility aid that has been specially designed to aid users when rising from a vehicle.
the Car Support Handle fits easily into the door bracket on the car's door frame, where it will then remain for as long as it is needed as an excellent supporting handle that protrudes at an ideal height to assist the user in sitting or standing.
To ensure user comfort it boasts a soft, comfortable, slip-resistant handle. The Car Support Handle can also double up as an emergency tool with built in seat belt cutter and hammer feature to break glass in the case of emergency.
All in all, a great idea and low cost investment for your future driving safety comfort and enjoyment.
Our soft transfer cushion here featured in blue, can really help those of you who find it difficult to swivel on the seat to leave the vehicle after driving.
This cushion features a soft, padded, flexible turning disc ideal for use on car seats, chairs and beds – so great not only in the car, but also within the home itself.
The soft transfer cushion works by allowing the easy rotation of the user, when the surface of the cushion swivels on it's base therefore allowing easier alighting or leaving of the vehicle.
It is a soft feeling cushion that can remain in place for the whole of the journey, providing a comfortable sitting position throughout.
We know that for many of you, sitting down without moving can be difficult and at times it's just painful and an additional means of massage and heat would alleviate much of this tension.
Our 5 Function Massage Cushion with Heat is ideal for such relief and is equally at home in the car, or placed upon any seat, or the bed, in the home setting.
This massage chair delivers a high quality relaxing massage function to stimulate and relieve major muscle groups, including the lumbar region of the spine (lower back) the spine, neck and shoulders.
The heated seat cover has been designed with five massage motors,with 3 speeds of intensity to relieve aches and pains in the upper and lower back, hips and thighs.
It's an Incredibly versatile device, the Heated Back and Seat Massager sits on top of an existing car seat, thanks to the car adapter which is easy to use to power the cushion.
So there you have it, a few very good ideas to make your life in your car or your home easier and more pleasurable.
To see a wide range of other products, aside from these featured, take a look at our car and travel aids section where you'll find a plethora of great ideas, all at very low price points.
Phil Ashforth is a staff writer for Mobility Smart, an online retailer of health, wellbeing and mobility equipment to help you recover from injury, recuperation and protection of joints and muscles when exercising or just helping you in normal daily life, you'll find their website here