Irritable bowel syndrome is one of the most common GI conditions. It occurs most commonly in women as compared to men and the cause remains unknown.
FACTORS ASSOCIATED WITH IRRITABLE BOWEL SYNDROME:
Heredity
Psychological stress
Anxiety
Depression
Diet high in fats
Irritating Foods
Alcohol Consumption
Smoking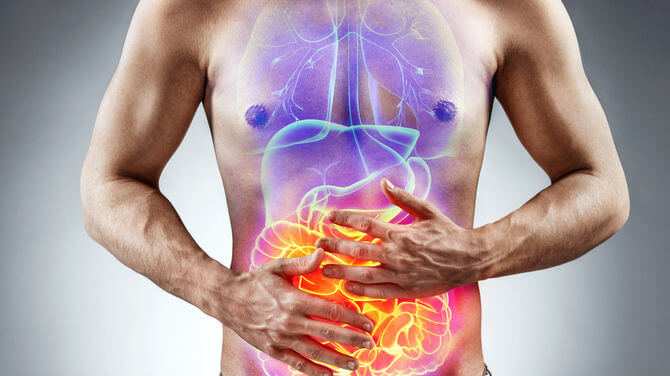 It results from a functional disorder of intestinal motility that may be related to neuroendocrine dysregulation, infection or irritation, metabolic syndrome. The peristaltic waves are affected at specific segments of intestine and the intensity with which they propel fecal matter forward.
CLINICAL MANIFESTATIONS: CLINICAL SYMPTOMS
Constipation
Diarrhea
Pain
Bloating
Abdominal Distension
Changes in a bowel pattern
DIAGNOSTIC FINDINGS:
Stool studies
Contrast x-ray studies
Proctoscopy
Barium Enema
Colonoscopy
Manometry
Electromyography
REMEDIES TO PREVENT IBS AT HOME:
YOGURT:

Contains friendly bacteria that provide a layer of protection against intestine and help to generate lactic acid to flush out bacteria from body
– Eat yogurt as it is for sometimes in a day until you notice improvement in your condition
– Alternatively, mix 1.5 teaspoon of Psyllium Husk (Isabgol) and 1 cup of yogurt. Eat it 1 hour after lunch and dinner Repeat daily if there is improvement.
PEPPERMINT:

Peppermint can reduce IBS symptoms like cramping, bloating, diarrhea Peppermint oil can also be used.
– Add 2-3 drops of peppermint oil to 1/4 cup of warm water drink it 3-4 times a day. Continue till there is any improvement.
– Add 1 teaspoon of dried peppermint in a cup of dried water Steep for 10 minutes Drink it for 2-3 times a day.
FENNEL SEEDS:
It can relieve intestinal symptoms and bloating
– Add 1.5 or 1 teaspoon of crushed fennel seeds to 1 cup of boiling water. Steep for 10 minutes strain and enjoy herbal tea for 2-3 times daily to prevent as well as reduce IBS.
– Take 1.5 teaspoon of dry roasted fennel seeds powder twice daily with warm water.
GINGER:

It can reduce gas and bloating
– Add 1.5 teaspoon of freshly grated ginger , add some honey and then drink tea
– Grate a small piece of ginger and add 1 teaspoon of honey to it. Eat this mixture before you having lunch
GINGER IS NOT GIVEN TO B.P PATIENT
CABBAGE JUICE:
It has a mild laxative effect
– Wash fresh cabbage and cut into small pieces
– Put pieces through juicer and blender to make fresh cabbage juice
– Drink 1.5 glass of juice 3-4 times a day
– Drink it in constipation also
THINGS TO BE AVOIDED:
Junk food
Milk and milk products
Gluten
Beans
Coffee
Alcohol