Have you ever wondered how celebrities without makeup look? On screen, celebrities look perfect, with not an ounce of extra fat or a wrinkle in sight. They seem to be born with symmetrical features and beautiful skin. Their hair is always in place; it looks like it has never seen a bad hair day. Behind all the gloss and shine, lies the real face of the celebrities. A comparison of celebrity photographs with and without makeup gives us a glimpse of the real person underneath the layers of pancake.
Hollywood Star – Jennifer Lawrence without Makeup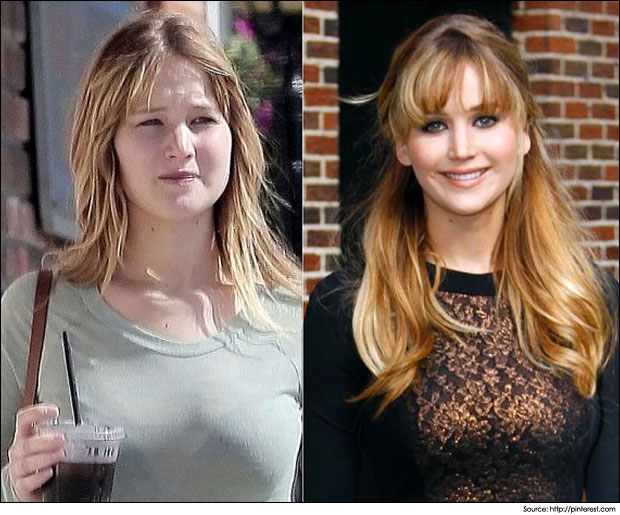 This promising young actress wowed us with her performances in The Hunger Games and winter's Bone. Her beautiful eyes mesmerize the audience with their intensity. She appears to have flawless, creamy skin and a figure that will make most women go green with envy. However, beneath all the makeup, she appears to look just like you and me! Fresh-faced and tousled hair, she could easily be mistaken to be the girl-next-door.
Celebrity – Lady Gaga Without Makeup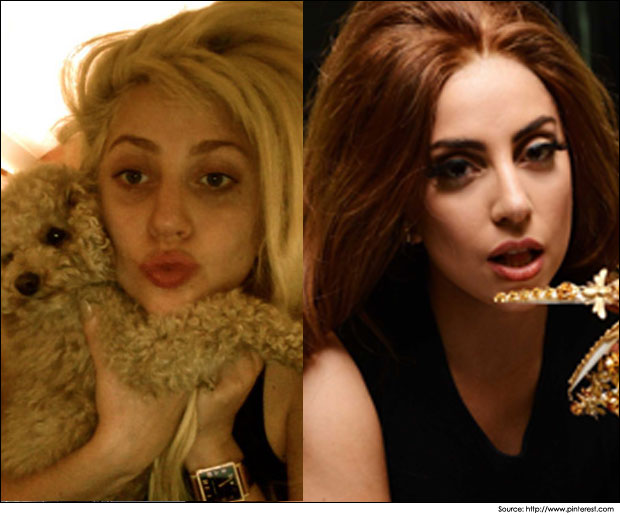 Known for her whacky sense of style and heavy makeup, Lady Gaga, the celebrity, with no makeup is completely unrecognizable. Her creativity and outrageous sense of fashion ensures that she looks very different without her makeup artists around her. Her face looks paler and her eyebrows are scant. She is ever the princess of reinvention, changing the color of her hair and altering her eye makeup.
Hollywood Star – Mila Kunis without Makeup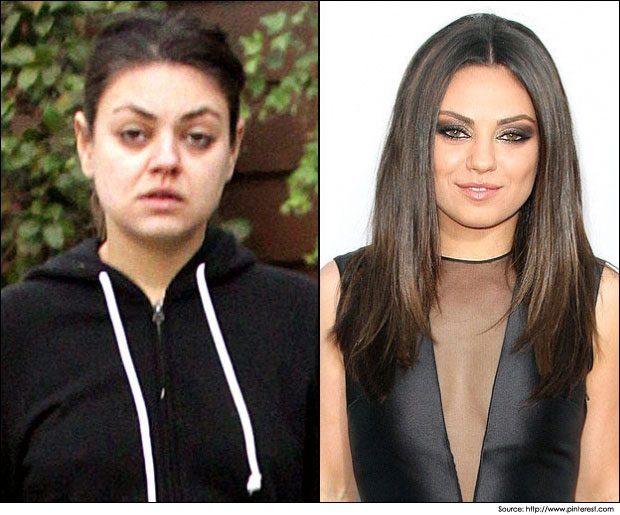 Joining other celebrities without make up is, Mila Kunis, who was hailed as the "Sexiest Woman Alive" in 2013. Her Smokey eyes give her an exotic look that simply takes your breath away. But, when bare-faced, she loses the sultriness and sensuousness that she is famous for. This startling change reminds you of the magic of makeup.
Hollywood Celebrity – Kristen Stewart without Makeup
Twilight Saga star Kristen is a very pretty actress with a slender body. She is known for her tomboy fashion sense and no-frills dressing. Sadly, this Hollywood star without makeup looks exhausted. Her skin looks far from flawless and her hair looks unkempt. Her casual attire does not help, either.
Hollywood Celebrity – Cameron Diaz without Makeup
This blue-eyed beauty has delighted men and women alike with her amazing sense of style and her acting prowess. Cameron Diaz pictures without makeup reflect her age though. She looks old and haggard, with the lines and wrinkles clearly visible. Her eyes do not lose their beauty, though. Mesmerizing as ever, her eyes could make you go all dreamy.
Hollywood Celebrity – Natalie Portman without Makeup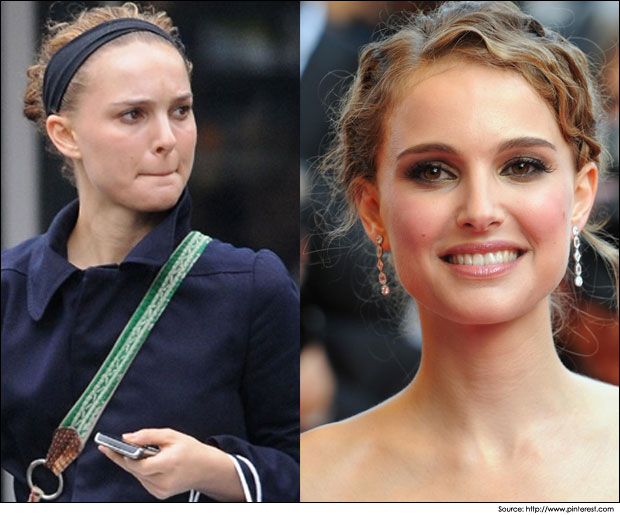 Hollywood stars without makeup are not a pretty sight usually but Natalie Portman without makeup is still a beauty. Her flawless skin looks fresh and youthful. Her natural glow ensures that she is truly the goddess she is proclaimed to be. Her refreshing looks add to her confidence and poise.
Hollywood Celebrity – Katie Holmes without Makeup
Hollywood stars without makeup do not look pleased to be photographed. Katie Holmes without makeup looks old and her skin appears spotted without makeup. Add to that unruly hair, and you have all the ingredients to look like a plain Jane.
Pop Star Celebrity – Miley Cyrus without Makeup
Another super popular pop star celebrity Miley Cyrus without makeup still looks pretty. Fresh-faced, with clear skin and sparkling eyes, every inch of her still looks like she is twenty-one years old.
Reel life vs. Real life
Stars without makeup look like us in real life; it just happens that we don't see them that often without a hint of makeup like pancake. Celebrities are often ridden by insecurities, and the pressure of looking young and beautiful all the time causes them to hide behind makeup. But underneath it all, they are just like you and me!