Eyes are the most attractive part of the body. They are the beholder of one's emotion as well the life experiences and beyond philosophical representation, eye colour is very important. While brown and black eyes are very common, few are blessed with beautiful and deep blue or sea green eyes. It is said that blue eyes are very rare and people with blue eyes share same ancestors.
Like a sea, which is blue, beautiful yet playful, a person with blue eye can also be defined. The blue pigment gives a depth to the eyes which make them very attractive. They are unbelievably pretty because when looked deep inside, these eyes look like a sky with clouds all over.
Blue is the colour that makes anyone felt bright, happy and lively and hence, blue eyes are most loved eye colour, set aside its rareness.
Since, they are already so beautiful; make up for blue eyes becomes a challenge. Here are a few makeup tips for blue eyes. The best makeup for blue eyes is choosing the perfect shades to enhance the eyes.
Tinted orange eye shadow complements the natural blue eyes and highlights the shape of the eye.
Smoky eye is a classic eye makeup. Shades of black, grey, brown will showcase your beautiful eyes.
Dusting bronzer on your eyelid at the end of the eyes helps in giving the eyes a subtle golden effect. Using your fingers or a makeup brush, blend it into the rest of your eye shadow.
Purple eye shadow can highlight your eyes without looking as extreme. Different shades of purple can enhance your party look.
Not any makeup tips for blue eyes can go well. One needs to be very clever. makeup tips for blue eyes are there to help you out.
Different Blue Eye Colours
Blue eyes, tranquilizing and beautiful to behold is a quote. Blue eye shade though mesmerizing in its own self still has some beautiful variants. Select your eye color and beautify using the appropriate makeup tips for blue eyes.
Baby Blue eyes
This type constitutes the most innocent gesticulation. This cute blue color is often found in infants while some may retain the color, others may not.
Cornflower Blue Eyes
This color type is defined by its outer light to relatively dark blue in the middle.
Electric Blue Eyes
This eye shade has only blue color somewhat scattered like waves. It looks vibrant and energetic.
Gunmetal Blue Eyes
This eye color has a mixture of grey and blue that appears to be like gunmetal and look cold.
Ice-Blue Eye
When eyes have more of whitish blue with a centre of deep blue shade, they are considered to be ice blue eyes. One has to be particular for selecting a perfect makeup tips for blue eyes.
Sapphire Blue Eyes
The most beautiful color yet rarest of rare to found. Rich in blue and shining like a sapphire makes it mere an extreme imaginable.
Sky Blue Eyes
The term reflects the richness of light blue as seen in summer sky in the eye color.
Got Blue Eyes? Here's what you must do
Want to give your face a better look? When it comes to apply make-up, girls usually forget the importance of eyes in the process of the make-up. It is always an aim to make your eyes look brighter, bigger and more noticeable and awake. Try these makeup tips for your eyes especially for the blue eyes.
Gold, coppery shades look best on blue eyes. Beware! Don't ever apply blue eye shadow or a liner just because you have blue eyes. Rich browns, golden and of course the pink works well and give you an amazing look on the blue eyes. Also the best approach is to apply the brown mascaras because it looks great on blue eyes. A colour contrast is the best tip while applying makeup on your blue eyes. Blue is a very cold colour and the best way to contrast it is by applying warm colour eye shadows. You can also opt for purple eye shadows.
Shimmer plays an important role in popping your blue eyes and giving it an extra effect to make it best than the rest. Just add a dot of shimmer to the inner corner of the eyes to make it look more beautiful and revealing. Choosing colours appropriately can make your eyes look irresistible. And if you have blue eyeballs, then you are the luckiest one. But while choosing the colour, make sure it suits your personality as well. Orange, peach, coral, rust, turquoise eye shadows give a stunning look to the women with blue eyes.
So, what are you waiting for! Put the best make up and get the never ending compliments.
MakeUp Ideas for Blue Eyes
Eyes are considered as a way to your soul. To enhance this extraordinary way of communication, it is immensely important to make your eyes look fresh and beautiful. Eyeliners can certainly help you in achieving this.
There are different shades of eyeliners available in market, but before buying it always remember your skin tone and eye-color. For instance, The Black eyeliner generally goes well with every eye-color. One should take special care while applying it on eye. Your application technique of eye- liner should be according to shape of the eye.
Makeup Tips for Blue Eyes
Blue eyes certainly have uniqueness in them. You can experiment with applying different shades of eye-liners, which suits you the best. Putting an eye-liner can make your eyes look subtle to dramatic.
Here are some eye makeup tips for blue eyes:
Cat Eye-Liner
It is considered as one of the best eye-liner styles for blue eyes. It enhances your eyes and makes them look the centre of attraction of your face. This style of liner gives subtleness and dramatic outlook to eyes.
Purple Eye-Liner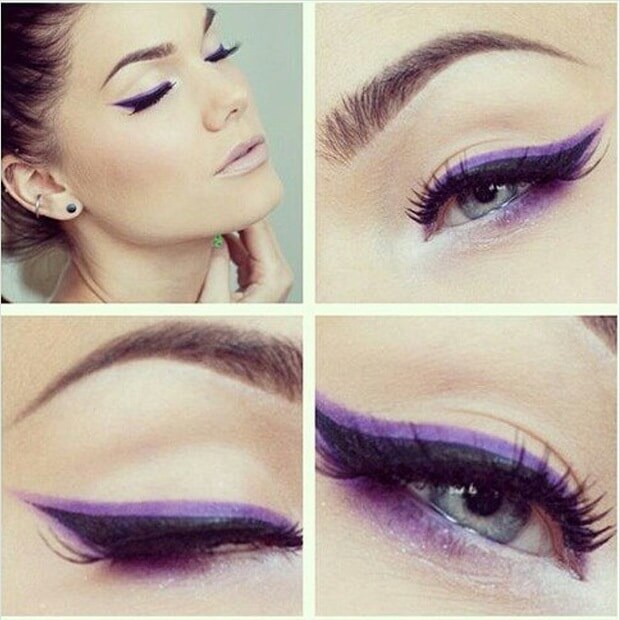 Purple color on blue eyes can make your eyes look fresh and energetic. Make this liner deeper and dark with black mascara. Purple often subdue blue eye color and make it look extra-ordinary.
Adding White Eye Shadow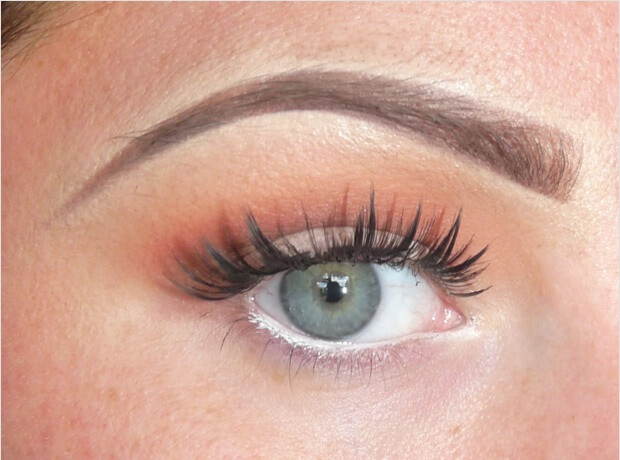 This is one of the best tips to enhance blue eyes. Add white eye shadow at your water line. This helps in creating and enhancing your eyes. Hope these tips work for you.
Making your Beautiful Blue Eyes stand out with Glitter
Different people have different eye colour. This eye colour varies because of melanin pigments. Eyes are the index of our personality. It catches everyone's attention first. People are said to be youthful with blue eyes. Even people use lens to achieve the same while there are some laser procedure too. People get happy by seeing glowing and glittering eyes.
Paul walker, Megan Fox, Olivia Wilde, Aishwarya Rai are some stars who got this second rare colour of eyes after green. One can make these already beautiful eyes even more beautiful with some good makeup tips. The shades to try with blue eyes are gold, copper, and pink. Copper can be found exactly opposite in the colour wheel which makes blue eyes stand out.
Blending is important too and it is what is needed most to get that perfect look which is distinct enough. Shimmer may also works as wonder when applied on eye lid but as it is said excess of everything is not good.
When applying glitter it must be used loose or infused for smoky eyes or for enhancing eyes in order to give a bolder look. This may get drifted away, so make sure to use some techniques so that it stays. Take eyelid prime before applying base shadow, you can also use Vaseline or light moisturizer which will make the glitter stick. At the end all you will have is magnificent eyes to flaunt.
Check out some of the beautiful ideas and makeup tips for blue eyes
1. Sizzling Blue Eyes: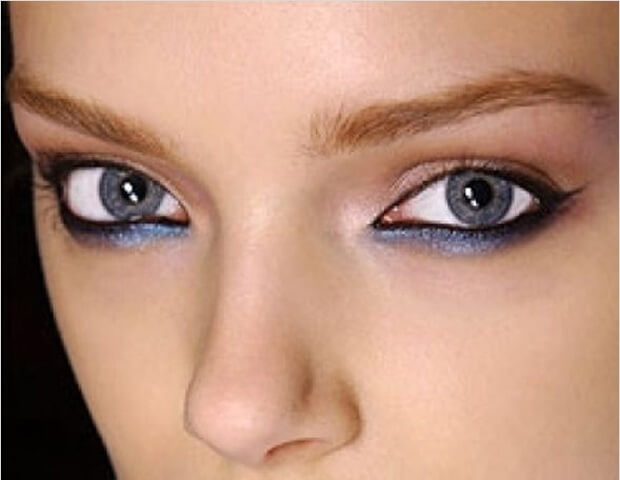 Style your blue eyes with taupe eye shadow and highlight them with a single stroke of black eye liner. To enlarge the eye look outline it with blue shining highlighter.
2. Exotic Blue Eyes:
To have sexy eye makeup tips for blue eyes, highlight your lash line covering the inner corner with blue grey highlighter. Make it more ravishing with sharp strokes of mascara and light shade of grey eye shadow.
3. Dazzling Blue Eyes:
Use a wide brush mascara to have an erotic and heart throbbing eye makeup for blue eyes. Give blue grey shade to brow bone and light copper eye shadow on inner eye lid. Have a finishing of blue black shade under your eye line.
4. Blue Eyes:
Apply full blue or sea shades make up for your blue eyes. Apply light mascara and spread blue eye shadow on eye lids. Give blue grey shade on brow bone to make it more attractive.
5. Cute Blue Eyes: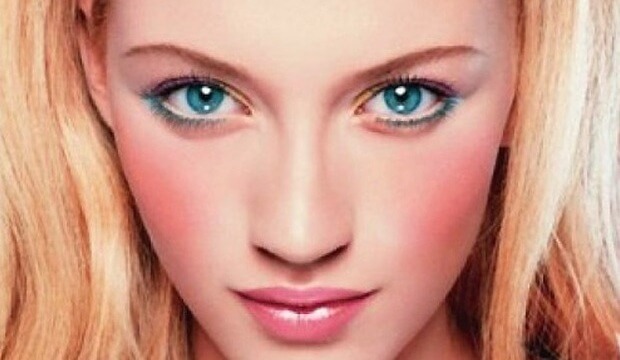 For a simple yet a unique makeup for blue eyes, try blue eyeliner on your eye line extending to the edges and highlight it at outer corners.
6. Wild Blue Eyes:
For a heavy eye makeup and wild look, give thick strokes of black eyeliner highlighting the eye. Enhance your eye beauty with spreading grey blue eye shadow.
7. Sparkling Blue Eyes:
Try glitter copper eye shadow on your eye lid to have sparkling blue eyes. Mark the brow bone with light smudged black shades and apply the glitter copper shade to the inner corner of your eyes to emphasize the makeup.
8. Jaguar Blue Eyes: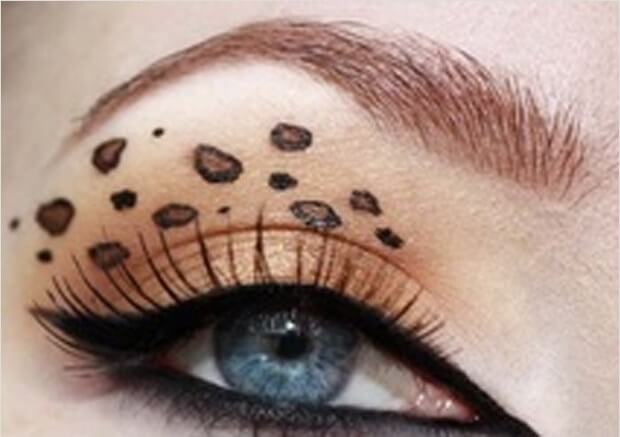 Give a unique touch to your eyes with a design of jaguar skin on your brow bone. Have a sharp and dark finishing of eye liner and copper shade on eye lids.
9. Sea shade blue eyes:
Apply sea green eye liner with a thick stroke completely encircling your eyes as best makeup for blue eyes. Extend the eyeliner to outer edge and mark your lashes with wide brush mascara.
10. Smokey Blue Eyes: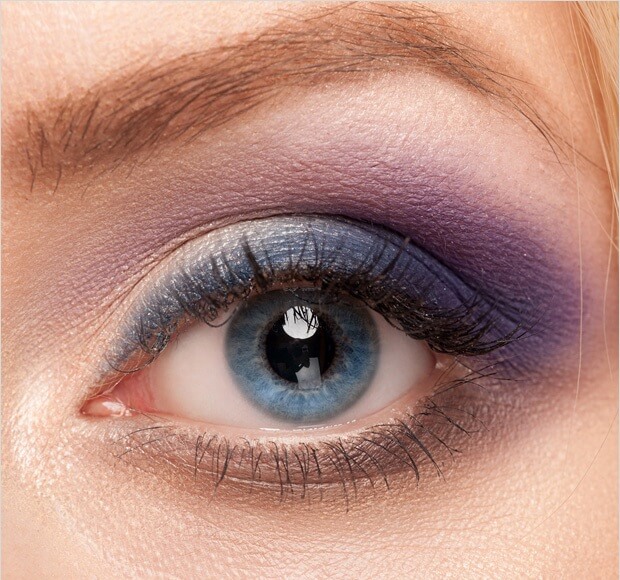 Give a different Smokey touch to your eyes with purple shade beautifying the brow bone. And use blue and grey shade to cover your eye lids and give a light touch of charcoal shade under your eye line.