We all travel with our family at some point of time in our lives. Sometimes those travels are within the country and sometimes outside the country. We take some time off from our busy routine to rejuvenate and relax during vacations. But does traveling to far off places really relax your mind and body? Do you feel tired while carrying your heavy luggage on your shoulders and while traveling in airplanes to places which are located in other parts of the globe? Jet lag is another reason which often takes a toll on your body and mind.
Even if you are a regular to the gym or a yoga lover, traveling interferes with your routine and needless to say that you cannot hit the gym while traveling. So, what should you do that does not require any equipment and relaxes your body and mind? Well, the answer to this is yoga. No, you do not have to be a yoga enthusiast to perform the yoga asanas.
If you are a travel junkie and have a thing for adventure, you can enroll yourself in Nepal Trekking Tours as it offers various packages depending upon your budget and the number of days varies.
Even if you are a beginner you can perform some easy asanas while traveling to refresh your mind. It will help you to bring back your energy while traveling as you need to be enthusiastic while shopping, clicking pictures and sightseeing. Even if you do not have a yoga mat, you can easily perform some quick yoga asanas that does not require a mat.
Here are 5 yoga asanas to keep your mind refreshed while traveling with your family:
#1. Mountain Pose (Tadasana)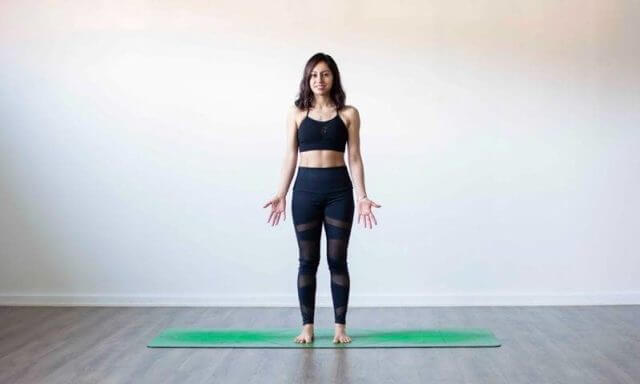 It is the most basic asana done by standing erect and does not need a mat and can be done by everyone. It is not necessary to perform this asana on an empty stomach but if you are doing yoga asanas, it is advised to have your meals at least four to six hours prior the asanas. By standing erect, you have to stretch your hands upwards, look up and focus on your breath. It improves body posture, respiration and balance of the body. It also reduces flat feet.
#2. Tree Pose (Vrksasana)
It is another standing asana which is done by standing erect. You stretch your hands upwards and put one feet on the thigh of the other leg. This posture demands focus as you have to stand on one leg. Your legs and feet represent the roots of a tree on which the tree stands as they give support to balance your upper body. It strengthens your core and provides relaxation to your mind. It helps in improving your body posture as it gets affected by sitting for long hours while traveling.
#3. Chair Pose (Utkatasana)
This asana is like you are sitting on a chair, hence the name 'chair pose'. It is a squatting position and can be done by practitioners of all levels. It strengthens the muscles of the legs and hands and improves blood circulation. It also improves the balance of your body. It stimulates the abdominal organs, heart and diaphragm and stretches the shoulders and chest. This asana too does not require any equipment and can be done anywhere.
#4. Standing Forward Fold Pose (Uttanasana)
This asana involves the inversion of your upper body and stretches your body in such a way that it helps in improving your blood circulation effectively. You feel rejuvenated and energetic as there is a flow of blood to your head. This stand involves standing erect first, then bending down from the waist and touching your ankle or the floor while you exhale breath. Hold this position for a few seconds. This asana works effectively to relax your body and mind.
#5. Cobra Pose (Bhujangasana)
This asana is performed by lying down flat on the floor on the stomach and lift your upper body with your hands by placing the weight of your upper body on your elbows. Hold the position for a few seconds and repeat two to three times. This pose improves the digestive, reproductive and urinary system and strengthens the back. It stimulates the abdominal organs, relieves stress and fatigue, and stretches chest, lungs, shoulders and abdomen. Pregnant women and people who have back injury should avoid doing this asana. If you want to explore more about yoga and are a yoga lover, you can enroll yourself in Yoga Teacher Training in India.
Traveling is important to break free from the busy schedule and enjoy and have a gala time with your friends and family. But to travel stress and pain free you need to bring in your daily routine. While exploring the adventurous side of yours to find a balance. If there is no balance between your daily routine and travel, then soon you will be tire while traveling and on coming back. Traveling means that you come back home refreshed, recharged and relaxed and not struck with pain and aches.
Don't forget to give your body the relaxation it needs along with food and good sleep. If you practice yoga while traveling you will be in connection with your daily routine and your body will not go out of balance. Yoga asanas will prepare your body and mind for the exploration and adventures to be carried out the next day.