One of the most fun part about being a girl is that putting on or trying out different sorts of makeup. And once you've excelled at the art, you can never look back.
The most creative aspect of makeup art is eye makeup. It feels amazing to rock new and unique eye makeup every now and then. After all, it defines how natural or dramatic your look is going to be. Be it learning to put on makeup for everyday at the office or putting that extra effort to look stunning for a special occasion, applying eye makeup that is at once stylish and effortless, is one skill that goes a long way to give you the confidence that you need to look your best but it is equally important to use natural eye makeup removers for healthy looking eyes.
Although there are a variety of products available in the market, your eye makeup kit essentially should consist of the following 3 things:
Eyeliner:
The most used cosmetic for any girl, it is used to sharply define the eyes. Eyeliner Makeup is generally applied around the contours of the eyes to create a varied range of looks, ranging from classy to daring. Although traditionally the color used has always been black, nowadays there are lots of options available for the modern women, from blue, brown to even green and purple.
Eye Shadow:
It is a cosmetic that is always applied on the eyelids and under the eyebrows. But to give a very surreal look sometimes it is also used under the eyes as well. Mostly used to make the wearer's eyes stand out in the crowd, Eye shadow can add depth and dimension. But choose the color carefully. Eye shadows come in many different colors, shades and textures. Depending on your eye color and the color of your skin, choose your shade. Although mostly it is made from a powder and mica, it can also be in liquid, pencil or mousse form.
Mascara:
Last but not the least is of course the Mascara. It is used to darken, thicken, lengthen and/or define your eyelashes. It is one of the most important tools when you apply your eye makeup. It helps to make your eyes look much deeper and definitely more detailed, helping you to look like the belle of the ball.
Eye makeup is used to enhance your eyes and bring out the natural beauty in them. But removing the same can prove to be quite a task. No matter how long lasting your Mascara might be, losing your eyelashes in the process can give anyone a nightmare. Doesn't matter how lazy you might be feeling after coming back from the office or party, sleeping with any makeup on is a cardinal sin and as a punishment you can wake up with itchy, blood-shot eyes.
Not a pretty sight to wake up to? The more troubling fact is that Eye makeup tends to get infected quickly and when you sleep with your makeup on, the chances are even higher. If you love to sleep on your tummy then it means that you rub your face against your pillow which again means pushing the bacteria further into the eyes. Waterproof Mascara especially is troublesome because it doesn't wear off easily.
We understand.
Many of us would like to stay away from makeup products which have way too many artificial ingredients, fragrances and dyes. But a lot of us forget that the makeup removers also have the same chemical ingredients which can prove to be harmful for our skin in the long run.
Which is why, natural eye makeup remover is an excellent way to maintain a regular and healthy skincare regimen. Homemade eye makeup remover helps in removing the makeup without irritating the skin. Most of the makeup removers available in the market have quite a strong level of alcohol in them, which strips the skin of essential oils and as a result the skin breaks out in allergic reactions such as redness and dryness.
That is why we recommend you to use the following natural eye makeup removers instead. They're simple, economical, easily available in your kitchen and don't take up too much of shelf space. Not to mention using these homemade eyes makeup removers will ensure that your skin stays fresh, young and healthy.
11 Natural Eye Makeup Removers
#1. Olive Oil
When it comes to the best makeup remover, Olive Oil without a doubt tops our list. Olive oil makeup remover is effective not just for eyes but face makeup as well. Guess what, this has been in use for generations in the European countries to give the skin a young, fresh glow during the festive season. Just grab hold of some fresh wipes and dab them into Olive Oil. Then wipe your face and your eyes. You can also use moistened cotton balls or makeup pads. Make sure your hands are clean though. After you've covered your entire face, wash it properly. Remember to use some cleaner on your eye area if you think there is any oily residue left.
#2. Milk
This will obviously come as no-surprising news that milk is absolutely great for the skin. Tradition has it that royal women used to bathe in milk to appear beautiful and elegant with glowing skin. Milk, especially whole milk contains fats and proteins that helps in hydrating and allows your skin to retain moisture. We suggest using it topically as drinking milk might develop skin conditions such as acne and eczema. Applying milk on your skin helps to soothe it. Not only that, using milk as an eye makeup remover is definitely cheaper and a whole lot simpler than using the cosmetic ones out in the market. To make it more effective, it is advisable to use a tablespoon of Almond Oil and add it to a bowl of milk which makes it the best homemade eye makeup remover. Rub it over the face using a wash cloth or a cotton ball. It leaves you makeup free and rejuvenated.
#3. Steam
One of the best eye makeup removers that are out there, this natural eye makeup remover not only cleans your face deeply and effectively, it also helps in loosening the eyelash extensions. All you have got to do is, heat a bowl of water for enough time so that it produces steam. Then simply hold the bowl underneath your face and drape a towel over it so that the steam is trapped around your face. Hold it like that for ten minutes. Not only it removes the makeup but it also removes toxins and other chemical agents from the skin.
#4. Coconut Oil
This is one eye makeup remover that you must have with you all the time. When compared to Olive Oil, the advantage that Coconut Oil has is that it solidifies when it is cooler than the body temperature. Hence, it is easier to scoop out of the jar. It gets rid of every last trace of makeup. Yes, that's right, even the waterproof Mascara. Use a cotton ball or a wipe and rub it on your face in small circles. You can also apply it directly with your fingers. Swirl a q-tip and then remove the detailed lines. Then use another cotton ball to wipe off the excess oil. Simple and effective to use, this is surely one of the best natural eye makeup remover to use. If you feel like it, you can also use green tea bags to use as a soothing and refreshing toner later.
#5. Vaseline
This natural eye makeup remover is very simple to apply and since you just need to apply only a little bit at a time, one bottle will last you for a longer period. Remember to use just a small sized drop each time. Close your eyes and gently rub it across your outer eyelids. You need to rub a little bit longer if you're wearing a waterproof Mascara. Take a warm washcloth or wet cotton ball or a wipe and then swipe it over where you've applied the Vaseline. Although it doesn't take too much time to come off, swipe it along till all of your makeup comes off.
#6. Jojoba Oil
Jojoba Oil is extracted from the seed of the Jojoba plant. One of the many benefits of this natural eye makeup remover is that it hydrates the delicate facial tissues. It also removes the stubborn eye shadow. This eye makeup remover also removes dry Mascara which naturally gives it thumbs up in our books. With Jojoba Oil, less is always more. Simply drip 3 or 4 drops of the oil to a cotton ball or wipe and rub it onto the makeup area. Don't rub harshly, always be gentle. This is to let the oil soak in naturally to remove the makeup and also to hydrate the skin. The best thing about Jojoba Oil is that after swiping there is no need to wash. It acts as a safe and natural alternative to facial moisturizers.
#7. Aloe Vera
Aloe Vera has always been in use for its medicinal properties. Rumor has it that Aloe Vera is the secret behind Queen Cleopatra's stunning and legendary beauty. It can be drunk as juice, be used topically in a lotion or gel form and/or can be taken in a capsular form. This natural eye makeup remover is the correct alternative for Olive Oil or any other oil based makeup remover. Just soak refrigerated Aloe Vera gel in cotton balls or wipes and then wipe it across your face. It can also be used as a great compress for tired and puffy eyes.
#8. Honey
Those of you who are unfamiliar or even reluctant to use the oil cleansing method, Honey is the perfect alternative for you. Honey restores the PH balance in the skin. That is why it is used in full-treatment facial cleansing methods. Rinse your face with Honey and then wash your face clean and dry. Of course the heavier is the makeup the more effort you would have to put in the rinsing stage. The result is of course a makeup free, fresh, healthy and glowing skin.
#9. Sesame Oil
Another feather added to Olive Oil cleansing makeup remover family, Sesame Oil is highly recommended by professionals as it cuts out chemicals and toxins. Of course like Jojoba Oil, you don't need to use much of it. Just like the other oils, add a few drops of the oil to cotton balls and wipe it across the face. It effectively removes Mascara and Eye shadow, being one of the best eye makeup removers in the natural side of the market right now.
#10. Wet Wipes
Although used mostly with others such as Olive Oil eye makeup removers, Wet Wipes solely can be used as a makeup remover as well. All one needs to do is to rub one's face gently but firmly with it. However, keep in mind that using Wet Wipes alone will not help in removing heavy makeup. Once removed, simply wash your face and you'll go to bed with a clean, makeup free skin.
#11. Cucumber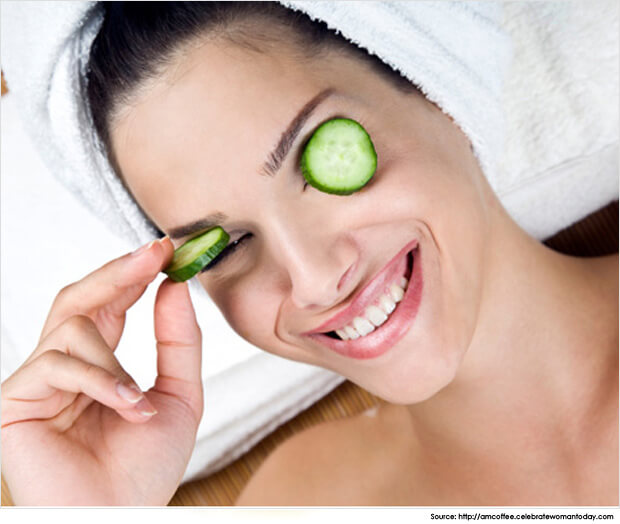 Fun fact, There are many cosmetic makeup removers that use Cucumber as one of their ingredients. So of course it makes sense for us to simply open our refrigerators to look for that natural eye makeup remover. Because they have anti-inflammatory properties, Cucumbers are very soothing for skin, especially for acne-prone skin or skin that is likely to develop allergies or sudden break outs. Blend the Cucumber into a paste and use it as a cleanser for your face. In case it is tough to remove the detailed lines, add a little bit of Olive Oil or Milk into the mixture.
For women who love to experiment with eye makeup the market offers a variety of products from waterproof Mascaras to pencil Eyeliners to cream Eye shadows. The list is endless. It is up to you to choose the right product for yourself.
But modern women are also aware of the fact that taking off the makeup is more important than putting it on. So do put on the most glamorous colour that is out there but don't forget to try out our list of natural and the best eye makeup removers.