The younger generation nowadays has a high opinion of following healthy eating habits. A lot of people across the globe turn towards homemade and organic recipes for nutrition and a strong immune system.
Those who are extremely health-conscious choose extra virgin olive oil in their meals. The reason? They want to include extra virgin olive oil benefits in their meals!
Olive oil offers a lot of health benefits. It is rich with monounsaturated fats, antioxidants, and contains anti-inflammatory and anti-bacterial properties.
Its many wholesome properties are also beneficial for a child during their growth years. Besides, ch olive oil helps to prevent heart diseases, bone problems, cancers, Alzheimer's, and arthritis.
Extra virgin olive oil tastes amazing on its own, but you can make this liquid gold more delicious and savory by infusing it with other foods. Infused olive oils are a smart way to reduce food waste and store your favorite flavors.
You can be heavily inspired by the ingredients lying around in your kitchen. The leftover bunch of herbs, lemon peels, or those last couple of chilies are a great way to start.
To know more about the top ingredients to pair with best olive oils, and benefits of olive oil read on!
6 Delicious Ingredients To Infuse Your Extra Virgin Olive Oil With
1. Olive Oil and Lemon
Olive oil, when infused with lemons like olive oil and lemon juice, works fabulously.
You can use this classic combination in a salad dressing or simply drizzle over grilled veggies, fish, or chicken. Plus, you can dab it on some fresh goat cheese or plain milk yogurt.
All you need is one large fresh lemon. Scrub it thoroughly and let it dry completely. Once dried, peel off the outside zest into long strips.
Warm the oil and zest mixture for 10 minutes. After the mixture cools down, strain the zest and transfer the oil into a clean jar.
Also Read: 14 Amazing Health Benefits of Lemon
Just make sure you keep the infused oils sealed and avoid exposure to light to make it last for several weeks.
2. Fresh Rosemary Herb
You would always keep that olive oil in small bottles of rosemary oil stored in your kitchen. That's because the herb is the most preferred ingredient for roasted chicken or root vegetables.
Turns out, rosemary is the perfect ingredient to infuse your bottling olive oil with!
You can drizzle this tasty oil on roasted potatoes and popcorn for a delicious family meal. Rosemary-infused also olive oil serves as a wonderful gift for your friends and family.
With a natural deep green color, rosemary is enriched with a highly aromatic and flavorsome taste, especially when picked fresh from a plant.
You can lightly crush the sprigs without stripping off the leaves. Take a big aluminum-free pot and place the rosemary leaves into the pot. Add extra virgin olive oil.
Heat the pot for up to 10 minutes and remove from the stove before it simmers. Put it aside for an hour to allow the infusion to take place.
Strain the leaves and pour the olive oil in a packed jar. Avoid direct light and heat. The oil can stay for 2 months at room temperature and 6 months in the refrigerator.
3. Chili
Chili oils come with vivid profiles of flavor and an added aroma. A lot of chili versions come from different origins, and the beauty of this spicy oil is that you can control its intensity.
Chili infused olive oil is a great condiment used for flavored loaves of bread, dumplings, pasta, pies, pizzas, or empanadas. Also, it can be added to your soups, sauces, and dips for a scrumptious zing.
Place some crushed chilies into a dry jar. Heat extra virgin olive oil into a saucepan for a few minutes. Remove the pan from heat, just when the smoke begins to form and later allow it to cool.
Gently pour the bottling olive oil the crushed chilies till they get covered up completely. Set the oil aside and let it cool for nearly two hours.
Check if the taste matches your desired flavor. Once done, strain the oil and remove the crushed chilies.
Store the oil in a clean airtight jar container. You can store and use the infused oil at room temperature for nearly three months. If refrigerated, it will stay up to six months.
4. Garlic
Garlic is a well-known ingredient used to infuse olive oils. However, if not infused carefully, it can poison you. Garlic contains spores that can cause botulism, a severe toxic illness, if not heated for long enough.
Botulism, although rare, can be fatal. So, to reduce the risk, be sure to crush your garlic well before adding it to the oil, heat it well, and use the oil within 2-3 days of infusion.
A well-infused oil can result in a delicious garlicky flavor that elevates the taste of various roasted recipes. Garlic-infused oil is perfect for drizzling on salads and as a dip for potato bread.
Also Read: The Surprising Personal Health Benefits of Airsoft
Add four garlic cloves and olive oil in a small saucepan. Slowly heat the oil on low flame for 15 minutes. You need to ensure that the garlic cloves do not burn.
Simmer the oil until the cloves turn golden brown. Remove the pan from heat and smash the cloves with the back of a hard spoon.
Let the infusion take place till the oil cools down. Strain the infused oil through a thin sieve. Store the garlic-infused olive oil into an airtight container.
5. Basil Leaves
Basil infused olive oil gives a refreshing savory flavor to your cooked fish, salads, crusty and toasted bread, and even eggs.
You need four cups of freshly picked basil leaves and two cups of extra virgin olive oil. You can combine both in a blender until you get a smooth puree.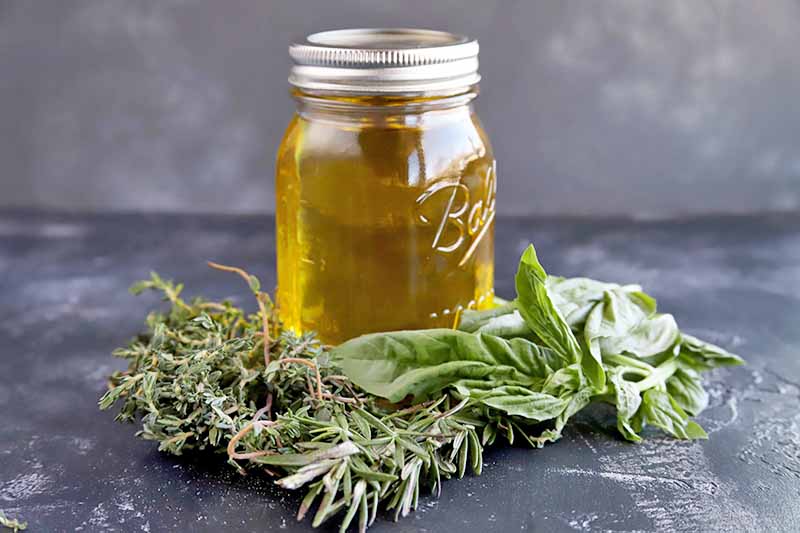 Simmer the bottling olive oil and basil puree into a saucepan for almost 45 seconds. Pour the heated mixture with a strainer into a container.
Allow the infused oil to cool for a few hours. Store the basil-infused olive oil in an airtight jar. You can use the wonderful combination as a condiment, marinade, or an herb substitute.
6. Oranges
To get a delicious and tangy infused olive oil, add orange zest to your olive oil. If you want to add an energizing flavor to your pound cake and other decadent desserts, orange-infused olive oil is the winning addition.
Preparing the oil is easy as it takes very little time and only needs a few steps. Remove the peel from the orange and add it in the food processor along with one cup of olive oil.
Also Read: 5 Healthy Recipes Featuring Olive Oil and Lemon Juice
Blend the mixture well and leave at room temperature for one hour. Later, strain the mixture through a fine-mesh strainer.
You can preserve the orange-infused olive oil for up to 1 month at room temperature with less light and heat.
Tune In To A Healthy And Flavorsome Lifestyle!
It's now possible to add more flavor to your recipes with healthy infused olive oil. Pick up a bottling olive oil of the best extra virgin olive oil and indulge your senses in pleasant, striking flavors.